1. Maintain the hydration force of stratum corneum and improve the problem such as rough skin, dullness and aging. 2. Increase the brightness of the skin amd make it more stabilize.

Prevent melanin production, enhance skin crystallinity, brightness, and improve dull skin tone. It feels refreshing and not greasy.

Provide nutrient and hydrate the skin. Replenish the collagen to promote firmness and brighten your skin.

1. Marine Collagen can long last lock in moisture, repair the damaged skin and promote collagen synthesis. 2. Recommend for people who is dryness, oily, sensitive skin and after professional treatment.

Maintain the balance of the skin microbiota to repair and stabilize skin emergencies, continuously improve skin conditions such as anti-aging, tighten pores and anti-acne.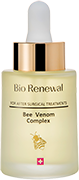 Speed up cell regeneration, tighten and lift the skin, smooth fine lines, and refine pores.